Thanksgiving is just around the corner, meaning a mammoth dinner is incoming. A meal that, after consumed, requires some rest and relaxation once the final crumbs are cleaned off the plates and final drops of gravy licked off the fingers.
Once you've cleaned the plates and silverware, get out your favourite coffee machine and brew up a batch of delicious coffee drinks. Then finish the night off by unwinding and enjoying conversation with friends and family, while sipping on your warm cozy coffee.
Here are three tasty, yet easy to make, coffee drinks for this Thanksgiving holiday.
1 - Coffee S'more Milkshake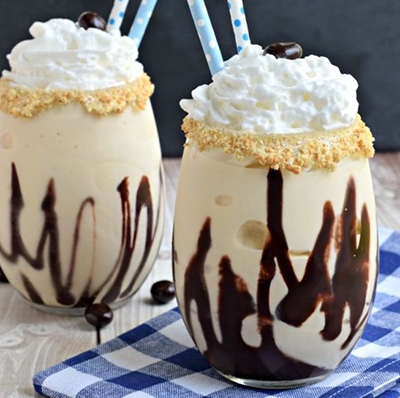 This recipe combines after-dinner coffee with a popular dessert. It's super delicious and easy to make at home.
Ingredients:
1/2 cup brewed coffee
Chocolate sauce, to taste
1 tablespoon marshmallow cream
4 cups vanilla ice cream
Crushed graham crackers for topping
Chocolate drops for garnish.
Directions:
Brew your favourite bean coffee or

K-Cup® coffee

 in your beloved coffee machine.
Grab two glasses and spread the chocolate sauce along the interior sides in a vertical pattern. The glass should look as if it's striped with chocolate.
Spread marshmallow cream around the lip of each glass.
In a blender or food processor, combine the coffee and ice cream until they are well mixed.
Pour the mixture into the glasses and top with crushed graham crackers.
Garnish with a chocolate drop and serve.
2. Pumpkin Pie Frappuccino
Rather drink your pie than eat it? Especially after all that food and stuffing? Don't feel guilty, we understand you! Enjoy this pie recipe that tastes just like the real thing.
Ingredients:
1/3 cup brewed espresso
1/3 cup milk
1 cup ice
1 tablespoon sugar
2 tablespoons pumpkin puree
1 teaspoon pumpkin pie spice
2 pumps cinnamon syrup
Whipped cream to taste.
Directions:
Brew the espresso in your favourite espresso machine. Let cool for 30 minutes.
In a blender, combine the coffee, milk, ice, sugar, pumpkin puree and pumpkin pie spice. Blend until smooth, for about 40 seconds.
Add the cinnamon syrup and whipped cream, blend for another 10 seconds.
Pour mixture into a tall glass, top with more whipped cream and serve.
3. Easy Peppermint Syrup

You make your coffee at home, so why not make your own flavored syrup at home too? This syrup can be kept in the refrigerator so you can enjoy it with all your coffee drinks.
Ingredients:
1 cup water
1 cup white sugar
1 teaspoon peppermint extract.
Directions:
Bring the water to a rolling boil.
Add the sugar and stir until it's dissolved
Mix in the peppermint extract.
Store in a bottle with a pump top and use it in your next cup of coffee.