Roll over image to zoom in
---
---
Ships Free With Orders Over $60.
Description
For Body and Sweetness.
This paper has the "Two-Sided Crepe" but with a lower crepe height than the Medium Roast filters. Thus, the surface area is a little larger than that of One-Sided Crepe, and the area for catching fine powder is larger. In the first half of brewing, because fine powder has not yet settled, water can flow smoother. However, in the last half of brewing, the stuck coffee grounds apply the brakes and slow the water flow. The initial quick flow followed by the slower flow towards the end ensure the coffee has body and sweetness.
There are many types of CAFEC Paper Filters available, you can find them all by clicking this link.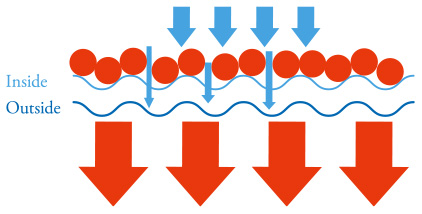 CAFEC Original Papermaking Technology "Two-Side Crepe" Air-Through Dry
During the traditional papermaking process, paper is dried on a heating roller so the crepe on one side is pressed down and virtually removed. On the other hand, CAFEC paper adds a crepe on both sides when drying using hot air blast (meaning the paper is not pressed on a heater) so the crepe on both sides of the paper can be kept as it is, and the height of the crepe is maintained. Thanks to the crepe height generated by the Two-Sided Crepe, almost all fine coffee powder is attached on the crepe, so you can enjoy a clear cup of coffee without any muddiness. Moreover, the Two-Sided Crepe allows water to flow smoothly.
Advantage of CAFEC Filter Paper
Papermaking Process of

CAFEC

 Filter Paper

Air Through Dry: Wet paper is dried by hot air in a flat state, so the two sided crepe is kept after the paper is dried.

The texture of CAFEC paper mesh is fine, so water can flow in a stable and speedy manner.

Papermaking Process of Traditional Filter Paper

Wet paper is dried on a rotary drum by adding pressure, so the crepe facing the drum side is crushed, leaving the paper with only one sided crepe. To make things worse, the height of the crepe is also lower because the paper is stretched while drying.

The texture of traditional paper mesh is not fine, so water cannot flow in a stable manner; water might get stuck between the paper fibers.
Two Kinds of Filter Paper For Two Kinds of People
Non-bleached (Brown)

For those who prefer natural taste

Oxygen-bleached (White)

For those who want to extract the aroma 
No bleach, glues, chemicals or unnatural elements are added to the pulp. This is a 100% clean, eco-friendly, forest-sustainable filter paper.
As with any paper filter, ensure that you rinse through with boiling water first to remove any paper taste. These filters are oxygen-bleached white.
SPECIFICATIONS:
Thickness: 0.22mm

Density: Middle
Two-Sided Crepe (Crepe on inside and outside)
4 Cups/Size M/Size 02
100 Bleached White Paper Filters
For Use in V60-02 Drippers
FSC certified white Abaca paper filter for light brewing

Made in Japan

Payment & Security
Your payment information is processed securely. We do not store credit card details nor have access to your credit card information.